We are leading Sand Abrasion Tester, Manufacturers, Suppliers & Exporters Located in Dombivli Dist. Thane, Mumbai India.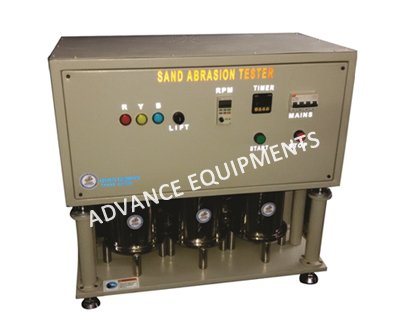 As per ASTM/ ISO15527/IS standards
Wear Resistance
Engineers have many factors as consideration to choose material in mechanical engineering design, one of the most important factors is wear resistance. Wear resistance is the ability of a material to resist the gradual wearing away caused by abrasion and friction with another material.
Many methods used to measure material wear resistance, for thermoplastics wear resistance uses and slurry test by ISO15527 reference.
By sand slurry test method, specimens rotated at 200–2400 rpm for 3 hours inside test cup that containing slurry abrasive material (silica sand or aluminum oxide).
After testing, the loss in mass of the test specimens calculated and compared to another material specimen and specifies percentage of mass loss