We are leading Thermal Impact Chamber / Thermal Shock Chamber, Manufacturers, Suppliers & Exporters Located in Dombivli Dist. Thane, Mumbai India.
As per IS 9000, JSS 55555, JSS 50101, MIL STD 750, 810, 883, IEC - 60068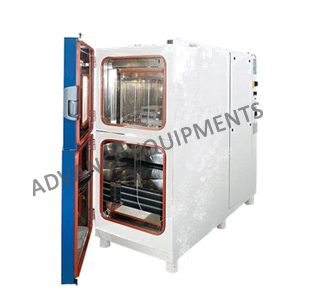 The extreme simulation of temperature is conducted in two zones of hot and cold that can be controlled independently and an optional third zone. The single basket product carrier moves vertically, from one zone to the other, subjecting the product to dramatic changes in temperature thus creating a temperature shock thereby detecting specimen flaws.
Features :
→ Vertical movement of basket with separate hot and cold temperature zones.
→ The Basket transition is done through a Robust Electro-pneumatic Method.
→ Mono-block design with integrated.
→ Non-CFC cascade refrigeration system.
→ DIGITAL Controller.
→ Castor wheels for easy movement of the chamber.
Models Available :
Models
AE-25-B2V
AE-64-B2V
AE-120-B2V
Basket/Test Space 
(W X D x H)
25L 
250 x 250 x 400 (MM)
64L 
400 x 400 x 400 (MM)
121L 
550 x 550 x 400 (MM)
Zone1 Temperature
60°C to 200°C
Zone2 Temperature
0°C to -75°C
Basket Transition Time
5 to 30 seconds
Basket Movement
VERTICAL

» Thermal Impact Chamber / Thermal Shock Chamber
» Impact Tester - Gardner Impact Tester
» Impact Tester For Poly Carbonate Sheet