We are leading Tearing Strength Tester, Manufacturers, Suppliers & Exporters Located in Dombivli Dist. Thane, Mumbai India.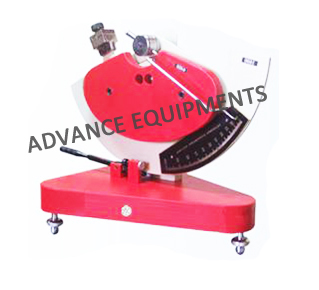 As per ASTM standards is suitable for most fabrics including woven, layered blankets, napped pile, blanket, and air bag fabrics.
This method covers the determination of the average force in grams per specimen required to propagate tearing through a specified length of plastic film or no rigid Sheeting. Two specimen are cited, a rectangular type and one with a constant radius testing length.
→ Grippers
→ 1600 Sector
→ Pointer
→ Sector Lock
→ Sturdy Base
→ Adjustable Footrest
→ Counter Weights
→ Scale
Significance :
This method is of value in ranking relative tearing resistance of various plastic films and thin sheeting of comparable thickness. Experience has shown the test to have its best reliability on relatively less extensible films and sheeting. Variable elongation and oblique tearing effects on the more extensible films preclude its use as a precise production control tool for these types of plastic.
→ Capacity : 1600gms; 3200gms; 6400 gms;
→ Clamping surfaces of each clamp : L-35.5mmxM-15.5mm
→ Distance between clamps : 2.5 +/-0.25mm
→ Tearing Distance : 43 +/0.15mm
→ Slit Size : 20mm
→ Scale Reading : 0 to 100% Range
→ Calibration check weight: At 1600gms: At 3200gms. : At 6400gms
→ Standards : D-689 ;BS 4153; ASTM D1424; DIN 53862; M&S 29